Quick Take – Total closings up for used homes, down considerably for new homes. Price per square foot is down for the month compared to last year. Showings went up a fraction. Active-Contract Ratios reflect slight buyer's market overall. Interest Rates still slowly moving north. Oil takes a shallow dive. Prognosis for early 2019, still good.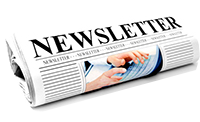 >>SUBSCRIBE to our Monthly Newsletter<<
–If using a mobile device, the following tables may display better if holding your phone in Landscape Position–
–
"Katy – Fulshear – VL Market" = Zips 77441, 77485, 77476
Katy – Fulshear – VL – Used Home Closings

October

2017

2018

 

 

 

Total Closed

15

27

Max Selling Price

$555,000.00

$750,000.00

Min Selling Price

$245,000.00

$160,000.00

Median Selling Price

$395,000.00

$415,000.00

Max Square Footage

4,394

5,188

Min Square Footage

1,735

1,610

Median Square Footage

2,996

3,257

Median Days on Market

87

79

Max Selling Price Per Foot

$234.75

$176.54

Min Selling Price Per Foot

$97.98

$65.84

Median Selling Price Per Foot

$130.17

$121.27
–
October numbers are in and the market took an upturn compared to last years total sales figures, but that wasn't hard to accomplish, last year's were atrocious. Coming into the Holidays October is usually the start of the downturn as maybe a few Buyers make the last minute decisions on a home purchase, but most Buyers, if they haven't picked out one yet, will decide to wait for the New Year.
Median Days On Market registered a favorable 79 days.
27 closings for September compared to 15 last year in the Katy Fulshear Market for used homes. Median Selling Price on Used homes so an increase up to $415,000 while the Median Selling Price per foot took a nose dive, going from $130.17 down to $121.27 per foot.  We'll hang this one on too much inventory and creeping interest rates. The Median Square Footage jumped up from  2996 to 3257. NOTE, don't compare these numbers to last months post, I've narrowed the data down to just three zip codes.
–
Katy – Fulshear – VL – New Home Closings

October

2017

2018

 

 

 

Total Closed

37

17

Max Selling Price

$725,608.00

$626,555.00

Min Selling Price

$244,900.00

$269,000.00

Median Selling Price

$432,110.00

$451,760.00

Max Square Footage

4,813

4,971

Min Square Footage

1,950

1,984

Median Square Footage

3,395

3,465

Median Days on Market

95

123

Max Selling Price Per Foot

$169.59

$151.88

Min Selling Price Per Foot

$103.45

$111.81

Median Selling Price Per Foot

$125.85

$125.97
–
New homes took a drop going from 37 closings in 2017 to only 17 in 2018.
The New Home Market had 17 closings reported to the MLS for September, that's another huge drop to add to last months 40% drop from the same time period last year. The Days On Market is better than last month's numbers coming in at a respectable 123 days.
Builders were still able to hold on to a fairly strong per square foot price of $123.63 in the face of slow sales, about the same as last year.
If you are shopping for a new home, use your own qualified Buyer's Agent. If you don't have one then call me. It will most certainly save you money.
–
Active ~ Under Contract Ratios

As of 10/03/2018

 

 

 

 

 

Neighborhood

Total Listings

Under Contract

Ratio

Cross Creek Ranch

158

41

25.95%

Weston Lakes

66

6

9.09%

Churchill Farms

20

3

15.00%

Cinco Ranch

354

80

22.60%

Westheimer Lakes

69

21

30.43%

Firethorne

86

24

27.91%

Valley Lodge

8

1

12.50%
–
Mostly Well Balanced, Except For Weston Lakes
The Active-Contract Ratios are still mostly reflective of a very slight buyer's market. I like to see this ratio at about 28-30%.
For the second month in a row Westheimer Lakes is leading the pack with decent number at 30.43%  Weston Lakes and Churchill Farms for the second month in a row are playing from the rear with 9% and 15% respectively.  Valley Lodge had great numbers in September but fell to 12.5% for October.
One other thing I noticed that the graph doesn't show. Of the current active listings in Weston Lakes, half of them have had price decreases, as of the time of this posting, WL has 62 Active listings, of those listings 32 have had price reductions. Weston Lakes is a phenomenal neighborhood, with interest rates still low but on the rise, and the Buyer's market we have there at this time, if I were a Buyer that's were I would be shopping! Great deals are to be had!
–
 

Total Showings

Average Per Listing

 

October

October

Price Range

2017

2018

2017

2018

 

 

 

 

 

$200,000 – $250,000

5

16

2.5

4

$250,001 – $300,000

67

98

3.4

6.1

$300,001 – $350,000

36

59

2.4

4.2

$350,001 – $400,000

134

154

3.6

4.7

$400,001 – $450,000

64

76

3.6

3.3

$450,001 – $500,000

82

91

3.9

3.4

$500,001 – $550,000

36

41

3.3

3.2

$550,001 – $600,000

84

31

4.9

3.9

$600,001 – $650,000

16

17

2.7

2.8

$650,001 – $700,000

23

21

3.8

2.6

$700,001 – $750,000

14

12

2.8

4

$750,001 – $800,000

21

8

7

2.7

$800,001 – $850,000

7

4

3.5

4

$850,001 – $900,000

8

7

8

3.5

$900,001 – $950,000

1

0

1

0

 

 

 

 

 

Total

598

635

 
–
Showings were UP for October
Our total home showings are slightly up. The most active markets were in the $350,00 – $400,00 range with 24% of all scheduled showings.
–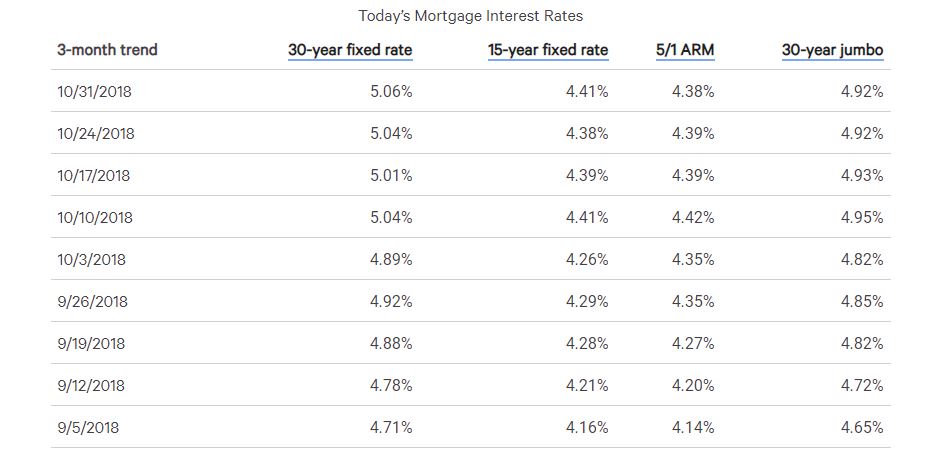 Rates up again, but still Excellent
The national average 30-year fixed mortgage rate is 5.06%, up from the 4.89% range last month. 15-year fixed mortgage rates are 4.41%, up from 4.25% last month. We've been saying that with a hot economy, and an active Federal Reserve, plus inflation starting to slowly tick up, mortgage rates would have a really hard time going down or staying level. That remains true. I don't see us dropping below that 5% mark for a 30 year mortgage anytime soon. Maybe never. The Feds have kept these rates as low as possible for a long as possible in order to keep the economy moving in as close to a positive direction as they could. Now that jobs, wages and the GDP are all skyrocketing, the rates are going to rise, they have to in order to control inflation.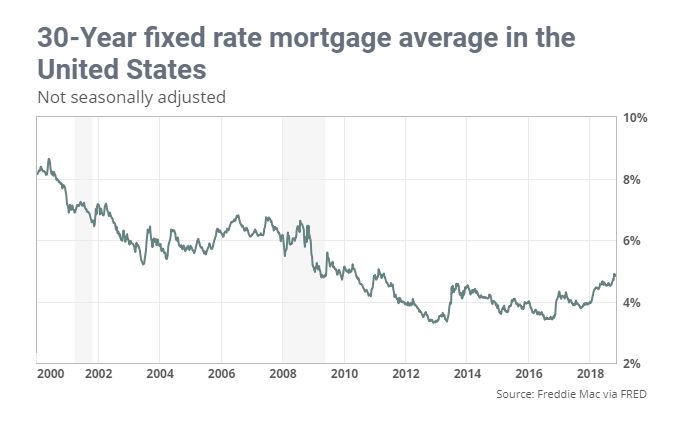 –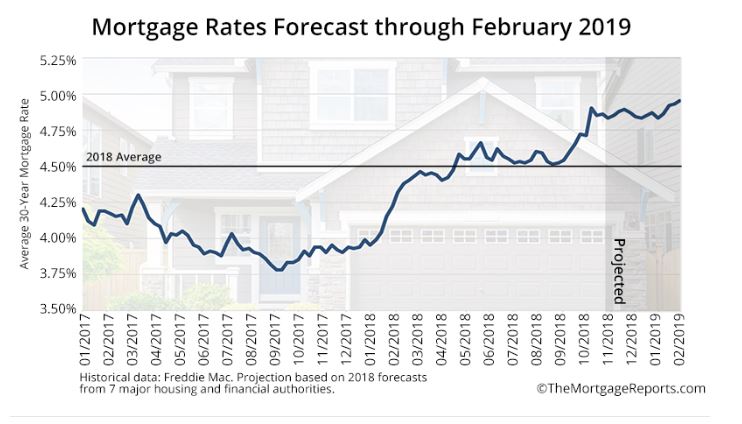 –
Nationally, the momentum in the housing market has slowed enough that it's starting to worry many observers.  I don't think we have to worry too much here though, at least not yet. The Houston market doesn't always go with the national trends though, our oil driven economy helps to keep the highs not so high and the lows not so low.
Back to the national spotlight though, home prices rose at the slowest pace in nearly two years in August, according to the S&P CoreLogic Case-Shiller report released last Tuesday.
Note the yellow highlighted area on the graph below, that time period coincides with the interest rates climb into the 5% realm.
As we head toward 2019,  we knew the five-percent mortgage would be imminent.
It's a big psychological barrier, but not necessarily a financial one.
The average mortgage payment between a 4.875% and a 5% loan is less than $20 per month.
Plus, as rates rise, home prices often fall. Buyers get excited about lower prices and buy homes.
Thinking of refinancing? Lenders can get so desperate for business that they are ready to give you the lowest rate possible.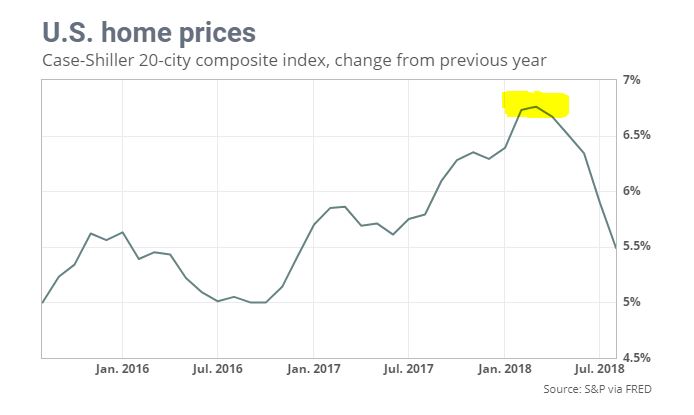 –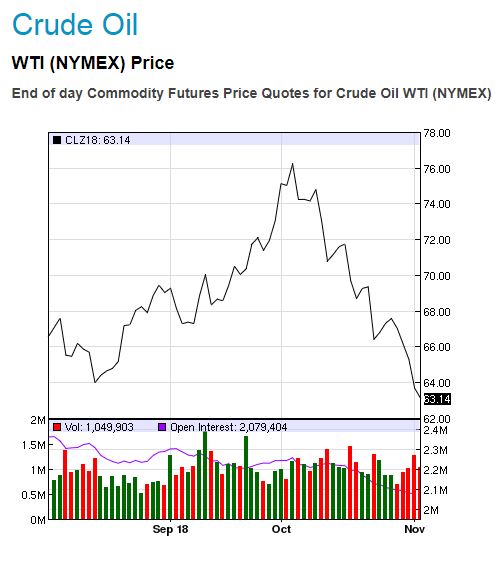 –
Oil $63.14 per bbl
Last month I was heralding the rise of oil prices, they disappointed me this month.
Politics and the world market have dropped the price per bbl by $13 per bbl since last month. That $80 I was looking for just moved further away.
We will watch, wait, and hope for higher prices. The good side is at least we will save a little at the pump.
All Stats from reliable sources but not guaranteed
Johnny Q –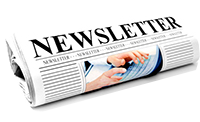 >>SUBSCRIBE to our Monthly Newsletter<<