"Katy – Fulshear – VL Market" = Zips 77441, 77485, 77476 
Quick Take – Total closings down for both new and used. Price per square foot is up. Showings remained fairly consistent. Active-Contract Ratios reflect slight buyer's market overall. Interest Rates still moving north. Oil still moving north. Prognosis for early 2019, good.
( REGISTER For Free to receive the Monthly Newsletter each month including your neighborhood's monthly Comparative Market Analysis with Detailed Statistics and Sales Figures)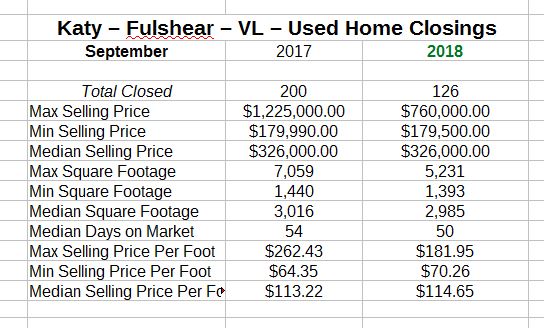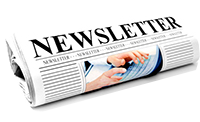 >>SUBSCRIBE to our Monthly Newsletter<<
September numbers are in and the market took a downturn compared to last years total sales figures, this is only a timing issue though. I'll explain further down.
126 closings for September compared to 200 last year in the Katy Fulshear Market for used homes. Median Selling Price on Used homes remained consistent at $326,000 while the Median Selling Price per foot jumped $1.43 p/f up to $114.65, mostly due to a generally stronger financial market and smaller homes being bought by the consumer. The Median Square Footage dropped from 3,016 to 2,985. NOTE that this data was expanded to include much of Cinco and Katy beyond our normal zip codes.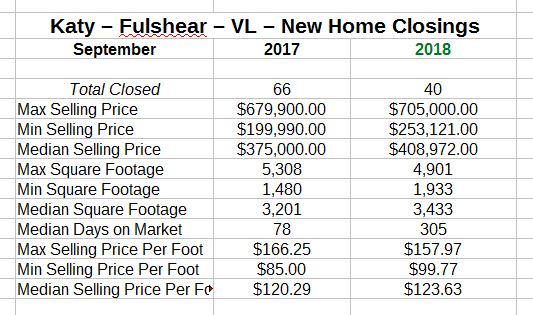 New homes took a further drop going from 66 closings in 2017 to 40 in 2018.
The New Home Market had 40 closings reported to the MLS for September, that's a huge 40% drop from the same time period last year. Note the extremely high days on market -305 Days On Market is just way too high.
Surprisingly, the builders were able to hold on to a strong per square foot price of $123.63 in the face of slow sales, more than $3 higher than last year's number. The Builders should thank their sales crews for that, this should be a vivid reminder that New Home Buyers should always have their own agent representation.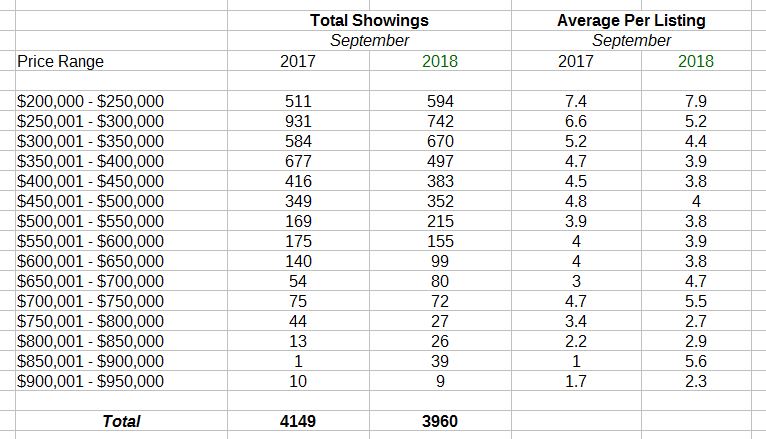 Showings were down for September
The Showings Chart will help explain why I said the September drop was mostly a timing issue. Our total home showings are down also, but only about 5%, that should translate to a decent November and December. The most active markets were in the $200,00 – $400,00 range with 63% of all scheduled showings. On a per home basis, the $700,000-$750,00 and $850,000 – $900,00 ranges did well also with 5.5 and 5.6 showings scheduled per home respectively. Just not as many total buyers shopping that market. Note that I expanded this data to include most of Cinco Ranch also.

Advantage Buyer – But not by much
The Active-Contract Ratios are still mostly reflective of a slight buyer's market. I would like to see this ratio at about 28-30%. Valley Lodge and Westheimer Lakes are leading the pack with decent numbers at 32 and 33% [note: Valley Lodge is a smaller sample and is subject to statisticlly larger swings] Weston Lakes and Churchill Farms are bringing up the rear for September at less than 19% each. With Interest Rates where they are, now is probably an excellent time to be looking at homes in these neighborhoods.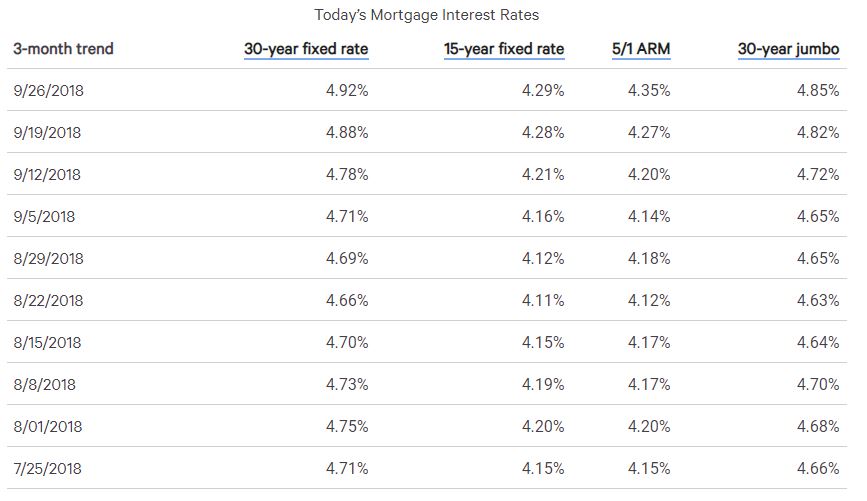 Rates up, but still Excellent
The national average 30-year fixed mortgage rate is 4.92%, up from 4.88% last week. 15-year fixed mortgage rates are 4.29%, up from 4.28% last week. With a hot economy, and an active Federal Reserve, plus inflation starting to slowly tick up, mortgage rates would have a really hard time going down or staying level.
The best we can hope for is that they at least stay where they are long enough for homebuyers to lock in at under 5%. Luckily, 30-year fixed rates are still in the higher 4s. This was considered an impossible range not too many years ago. Despite consistent rate increases, low rates are still available.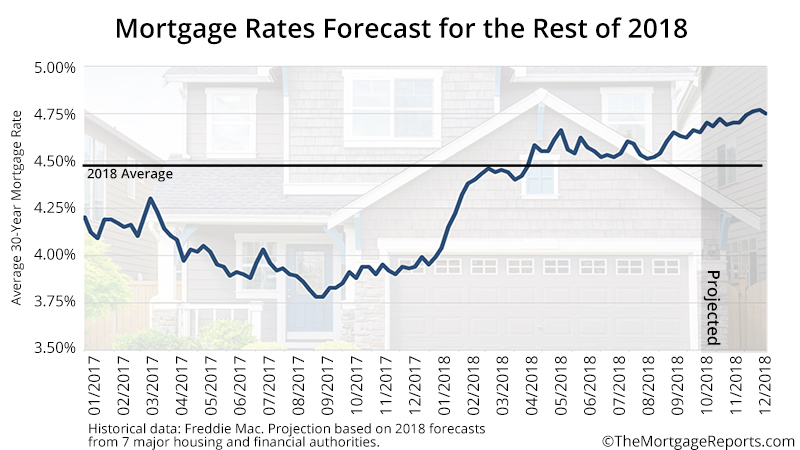 Don't want a rate over 5%? Now could be the time to act.
The Feds are tinkering with the rates on a regular basis lately. It's inevitable that with a GDP through the roof and ridiculously low unemployment figures that the feds will have to raise the rates. Let's just hope they do it very slowly.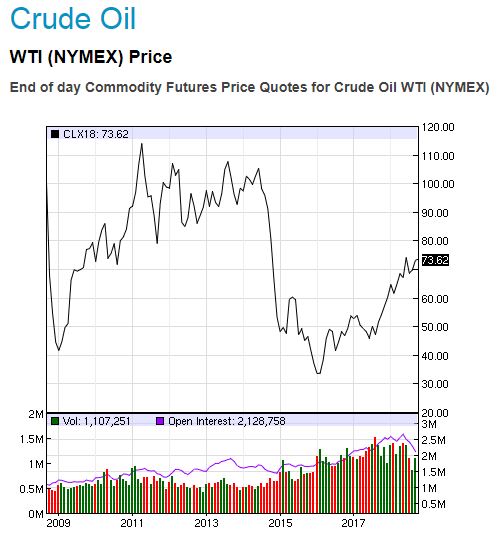 Oil $73.62 per bbl
Thursday, Freddie Mac's chief economist, Sam Khater, said "consumer confidence is at an 18-year high, and job gains are holding steady. These two factors should keep demand up in coming months." That's nationally of course. Here in the Houston market, we're also driven by oil. Our market doesn't always hang with the national norm. Oil prices can translate to either big employment contracts or layoffs, depending on what we're riding, a bull or a bear.
The low oil prices for the last few years have kept area homes sales at a slower pace than the rest of the country. That's on the precipice of change.
I'm seeing $80 per bbl as the magic number. We're almost there. If prices keep going in the direction they are going we should have a great 2019. As long as the interest rates don't go too high.
All Stats from reliable sources but not guaranteed
Johnny Q –
Follow us on Facebook to see Market Updates and Local News and Information. https://www.facebook.com/QTeamFulshear/